We provide e-commerce website services for businesses of all sizes. Whether you're just starting out or you're a well-established business, we can help you take your online sales to the next level. 
We offer a range of features and services that are designed to help you succeed online. From website design and development to online marketing and SEO, we can help you get the most out of your e-commerce website.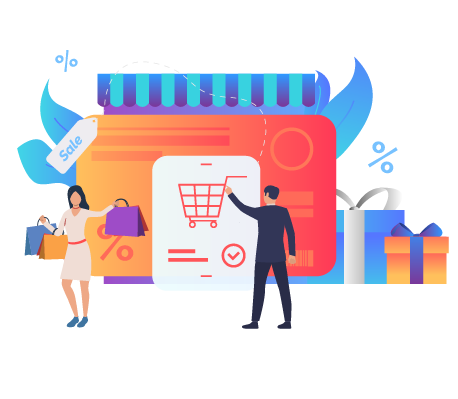 Why E-commerce Website is important for businesses ?
An eCommerce website will put your company and products in the hands of consumers no matter what device they're using. Whenever somebody needs something you sell, all they'll need to do is whip out their laptop or smartphone, browse through your website and purchase the products they desire.
It will also act as a new branch of your business, which in turn can help you reach an even bigger audience of prospective customers. Whether you're a new business or have been operating for a number of years, there are always new customers to serve that you have yet to have reached.
Benefits Of E-commerce Website for Business growth!
E-commerce websites help businesses to reach more customers and sell their products or services online. It is a convenient and cost-effective way to promote and sell products or services. Customers can browse through the website and purchase products or services with just a few clicks. Businessmen can also offer discounts and promotions to customers through their e-commerce website.
E-commerce website provides businesses a chance to display and sell their products 24 hours a day and 7 days a week. This gives them a big advantage over brick-and-mortar stores, which are limited by their physical locations and opening hours. By being open 24/7, e-commerce websites allow businesses to reach a wider audience and make sales around the clock. This is especially beneficial for businesses that operate in different time zones or that sell product that is in high demand.
When it comes to starting an e-commerce business, the start-up and running costs are relatively low in comparison to traditional brick-and-mortar businesses. This is because you don't have the overhead costs associated with renting or owning a physical space, as well as the costs associated with hiring employees. Additionally, an e-commerce business can be run entirely online, which means you don't have to worry about the costs associated with marketing and advertising your business.
With the help of an eCommerce website, you can run your business from anywhere in the world. All you need is a computer and an internet connection. You can sell products and services to customers all over the world. You can also accept payments from customers all over the world. With an eCommerce website, you can reach a global market.
An eCommerce website can help take your business internationally. By providing a platform for customers to purchase your products or services online, you can reach a global market. An eCommerce website can also help streamline your business operations, making it more efficient and cost-effective. 
E-commerce websites are a great way to expand your business. You can easily scale your business by adding more products and services to your website. This will allow you to reach a larger audience and increase your sales. You can also add new features to your website to make it more user-friendly and engaging. By making your website more accessible and user-friendly, you will be able to attract more customers and grow your business.
Now, it's your turn for getting benefited through E-commerce Website services